SLOPES Black is a multi-function instant stand for GoPro camera in its housing. 18 handy angles and the plug n' play quick deployment make it a Must-Have GoPro accessory. Moreover, features like 360 panorama shooting and LEGO attaching make your GoPro a more versatile camera.
Compatibility
GoPro Hero5 Black

GoPro Hero4 Silver/Black

GoPro Hero3+ Silver/Black

GoPro Hero3 White/Silver/Black (in housing of hero3+/4)

GoPro Hero / GoPro Hero+ / GoPro Hero+LCD
18 Handy Shooting Angles!
SLOPES Black has an unique cradle that allows Gopro to be installed in 4 different ways, (portrait or landscape, forwards or backwards) and a 5-facets polyhedron bottom that provides five positioning angles. The cradle plus the bottom endows GoPro with 18 handy angles for shooting. For a super wide angle camera as GoPro, these 18 angles are enough to fulfill almost all your needs in different circumstances.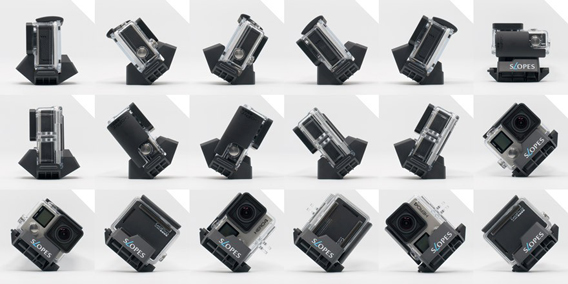 Speedy Deployment
The Plug n' play nature provides you the unrivaled deploying speed. All the positioning set-up could be settled in two seconds. No messing with the screws and positioning arms.


Ultra Slim
Ultra-slim body makes SLOPES Black portable and enables using in narrow spaces. It can free-stand on any flat surface, like footstep, windowsill, and closet top, makes the whole world your tripod.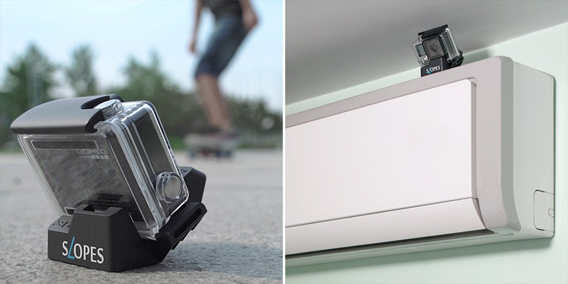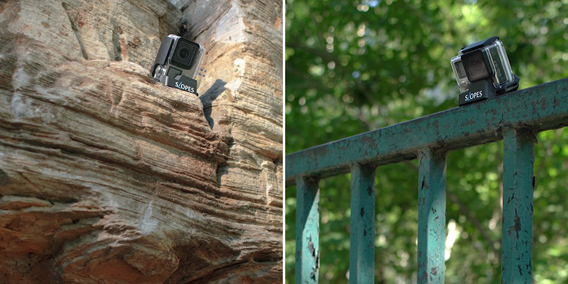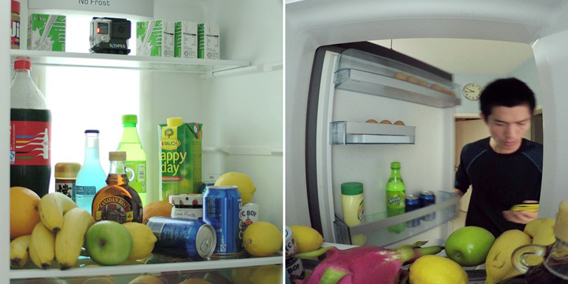 360° Panorama
SLOPES Black comes with a cubic NodeAnchor for 360° panorama shooting.
Insert GoPro horizontally and ensure its lens following the direction of the arrow sign carved on SLOPES Black. Having the node cave trapping the NodeAnchor from four orthogonal directions and take one picture at each of the 4 positions. Then you can use Panorama Studio or PtGui or any other Panorama stitching software to connect the 4 shots to a 360° cylindrical panorama.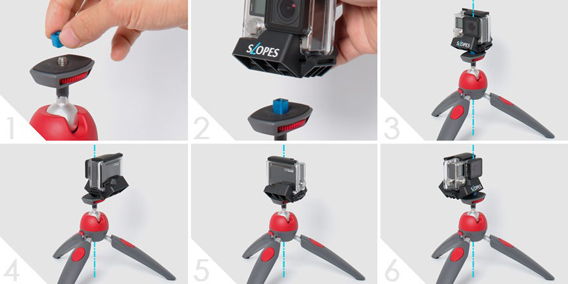 Joining with LEGO
There are some ribs at the bottom of the SLOPES Black. This design is not only strengthening the product, you can also having fun by joining SLOPES with LEGO bricks to extend its flexibilities, such as making a camera truck.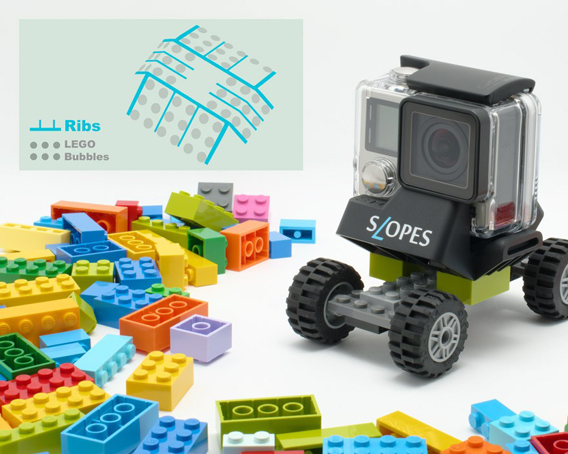 3D Shooting
Grooving joint on the side of the stand allows you to connect two stands or more side by side, enabling you to shoot 3D movies or multiple footage of the same scenes.
We recommend using two Hero5 to shoot 3d footage on SLOPES Black, and the easiest way is to use hero5's voice commands to start/stop recording.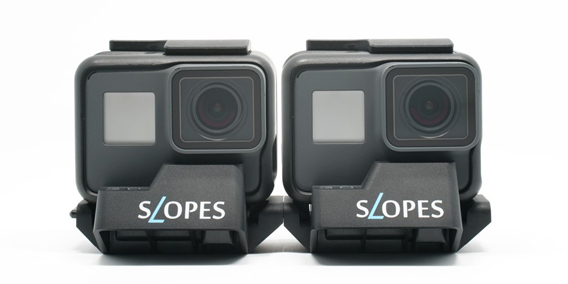 If you use two Hero3 or 4, please put at least one in skeleton housing to have them well connected. Using the remote controller would be simple, or you have to press buttons on the two cameras at the same time.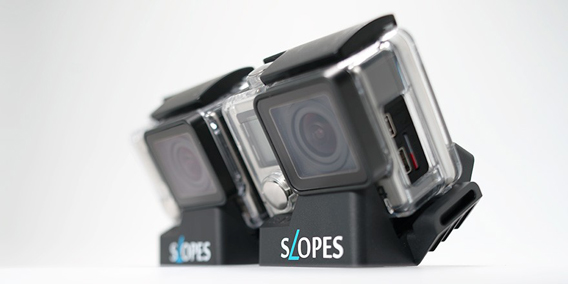 Multiple Angle Shots
Multiple angles shooting was usually affordable for professional filming crews in the past. Now, applying SLOPES Black to assist positioning of multiple angle shots only takes half minute to set up. Anyone who owns two or more GoPro cameras could do it easily. It dramatically increases the possibility in capturing nice shots, especially for unrepeatable scenes.